As southern Italian wine becomes more and more popular in the United States, we increasingly see the Aglianico grape take center stage next to Nebbiolo and Sangiovese as one of Italy's greatest noble red varieties.
And it's about time!
There's really no way around it: Aglianico growers simply haven't matched the marketing savvy of their counterparts in appellations like Barolo, Barbaresco, Valtellina, Brunello di Montalcino, and Chianti and Chianti Classico etc.
But that's beginning to change.
Aglianico from Campania, and in particular from Taurasi, has made remarkable gains over the last decade in expanding its visibility among American consumers.
These wines, raised in the volcanic soils of the Campanian mountain chain, have an incredible ability to express earthy, umami flavors along side deep, vibrant red fruit. And like the noble red wines of their northern and central counterparts, tourism has been a huge boost for reaching English-speaking wine lovers.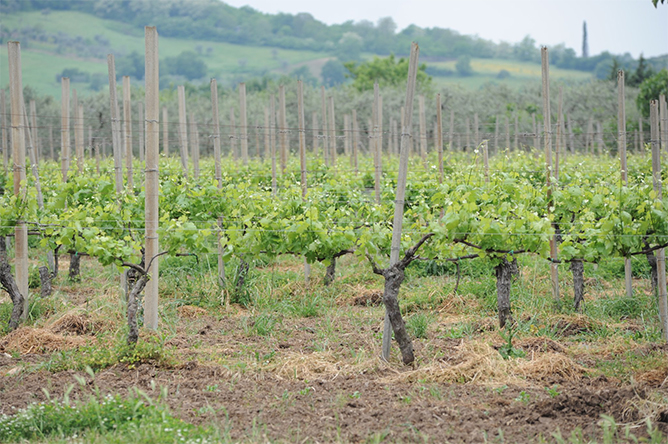 Above: Old vine Aglianico growing on the Carbone estate in the shadow of the extinct volcano, Mt. Vulture, in Basilicata.
And here's where Aglianico del Vulture — the "other Aglianico" — faces one of its biggest challenges. Because food and wine tourism is virtually non-existent in Vulture, few Americans have ever heard of these wines, let alone tasted them.
Like their cousins to the west, these wines are raised in black, nutrient-poor and mineral-rich volcanic subsoils at high elevation.
And like their cousins, they grow in vineyards surrounded mostly by woodsy countryside still left untouched by major development.
The entry-tier Aglianico del Vulture by Carbone (pictured above) is such a wonderful example of how fresh, clean these wines can be while still showing great earthy flavors and lipsmacking acidity.
You wouldn't expect those traits from a wine from Basilicata, one of Italy's "forgotten regions." And in fact, most of Basilicata is dominated by low-lying wheat fields (Basilicata is one of Italy's most important producers of wheat, by the way).
But on the south and south-east side of Mt. Vulture, the only anomaly in this otherwise flat land, you have the ideal condition for the cultivation of fine wine grapes.
Carbone's Terra dei Fuochi is named after Vulture, "the land of fire" (terra dei fuochi) and it is vinified and aged in stainless-steel before being bottled (no oakiness here).
It's an entirely unique expression of Italian viticulture and it weighs in at a fantastic by-the-glass price.
Vineyard image via the Carbone Vini Facebook (worth checking out).