The wines of Sardinia (Sardegna in Italian) are among the most misunderstood in the panorama of wine today.
Most people think of Sardinia as a hot-weather, sun-drenched island in the middle of the Mediterranean. And for the most part it is.
But it's also one of Italy's most mountainous regions. When you head to the northern section of the island (the second largest in the Mediterranean, after Sicily), you'll find fine wine grapes being grown at 300+ meters above sea level.
That's the case for the Tondini Vermentino di Gallura Karagnanj. In fact, some of the Guyot-trained vineyards where the fruit for this wine is sourced reach 350 meters. And that's what makes all the difference in delivering fresh, bright wines from this region of Italy.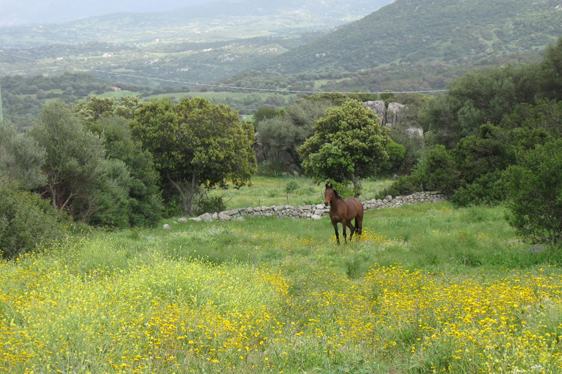 Above: largely undeveloped, Gallura in northern Sardinia has some of the highest-elevation vineyards on the island.
Gallura means literally high ground in Sardinian. And the Tondini vineyards actually lie in one of the highest parts of the appellation: Alta Gallura or high Gallura.
The other thing that sets Vermentino di Gallura apart is the grape variety's tongue-splitting acidity. It's the perfect white grape for the hot Sardinian summer (and incidentally, to give you a sense of its level of natural acidity, it's the one Italian white grape that's been cultivated with any success in the state of Texas, where hot summers kill the acidity in nearly every grape variety).
Tondini goes for varietal expression, freshness, and bright honest fruit in this delicious wine.