Some of Italy's great wine writers call the wines of Valtellina "heroic."
It's so difficult to farm grapes in this part of Italy that everything must be done by hand.
And life there is by no means easy: located in the Raetic Alps, not far from the border with Switzerland, the winters are harsh and the summers are short. It's a world cut off from contemporary civilization. And the ways and the attitudes of the people who live there reflect their isolation from the rest of Italy.
Click here for a Google map of Chiuro where the Balgera winery is located. Zoom in to see the topography of this geographically unique appellation.
The people who live there are friendly and open. And they're always eager to greet visitors and offer them a glass of wine and something to eat. In another era, the small towns that dot Valtellina — an Alpine valley formed by an ancient river bed — were outposts for weary travelers trying to cross the mountains.
And the wines that they make there are truly extraordinary.
The combination of the high altitude, the air currents that run through the valley, and the ancient alluvial soils is ideal for growing thin-skinned Nebbiolo. The grape likes the cool air and the ventilation (which helps to prevent rot). And during the summer, the valley floor absorbs just the right amount of heat from the sun to allow the grapes to ripen fully.
Today, we think of Barolo and Barbaresco as the greatest expressions of Nebbiolo.
But if you leaf through wine books from the 50s and 60s in Italy (and even beyond), you begin to realize that Valtellina was the supreme expression of Nebbiolo in the period that followed the Second World War (and preceded the rise of Piedmont wines in the 1980s).
This is Nebbiolo grown at high altitude and it has a singular freshness and vibrancy that wines from Piedmont lack.
And where great Nebbiolo from Piedmont tends to be dominated by earthy flavor, great Valtellina – like Balgera — is characterized by a note of eastern spice (think cinnamon and cardamon).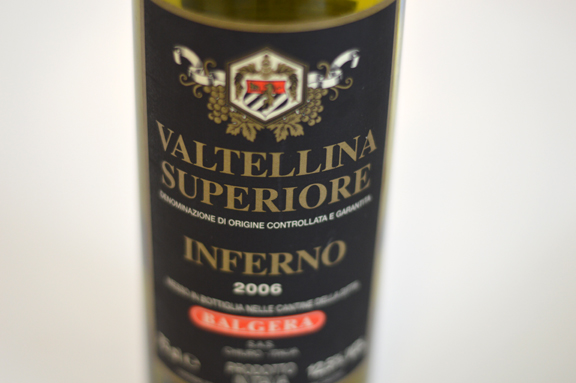 The family-owned Balgera winery traces its roots back to the late nineteenth century when it was founded.
The winemaking style is traditional and the alcohol levels are extremely well balanced.
We recently opened a bottle of the 2006 Inferno by Balgera, which weighed in at 12.5 percent alcohol (fantastic!).
It was lithe yet rich in the glass, bright yet powerful on the palate. It's an extraordinary value.
Top image via Franco Folini's Flickr.