Winery website.
He has been called the "king of Cesanese."
Anton Maria Coletti Conti (below), owner of the Coletti Conti winery in Lazio (Latium) in central Italy, is widely considered to be one of the greatest producers of Cesanese del Piglio, a red wine made from Cesanese grapes in Piglio, Serrone, Acuto, Anagni, and Paliano in Frosinone province.
Many people know the famous white wines of Lazio (the region that claims Rome as its capital) like Castelli Romani Bianco, Frascati, and Est! Est! Est!
Those wines have been famous in the U.S. for generations now, especially Frascati, which together with wines like Soave, Valpolicella, Chianti, and Verdicchio, were wildly popular in America in the 1970s.
But aside from diehard Italophile wine lovers, few know Cesanese del Piglio, with its lively acidity, its balanced alcohol, and its characteristic "white pepper" note.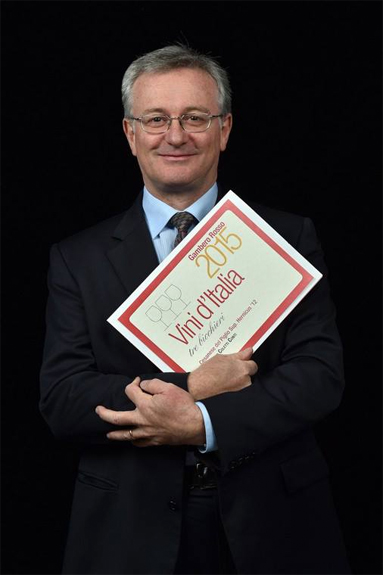 We recently tasted Anton Maria's "Hernicus," which is named after one of the pre-Roman peoples who inhabited this inland province in antiquity, the "Hernici."
They were famous for their resistance to Roman expansion and for centuries they opposed Rome before being absorbed into its orbit.
The hills where Anton Maria grows his wines are named after them: the Monti Ernici.
They are part of the sub-Appennines and its their elevation that allows winemakers like Anton Maria to achieve the freshness and acidity that sets Cesanese del Piglio apart as one of the great red wines of Italy.
Anton Maria has won countless awards for his wines and his 2012 Cesanese del Piglio not only won the coveted Tre Bicchieri award from the Gambero Rosso Guide to the Wines of Italy 2015, the publication's top rating. But it was also named "one of the best wines in Italy," by the prestigious Guide to the Best Wines of Italy (2015), receiving 92 out of 100 points from the guide's editors.
According to his website, Anton Maria carries out alcoholic fermentation for his wines in stainless steel and then performs malolactic fermentation in used barriques.
The wines are then aged in used barriques and then in bottle.
The natural micro-oxygenation of the casks gives the wine an elegance and nuanced flavors that you rarely find in Cesanese del Piglio, however good the wines may be. And the fact that he always uses casks that have been used previously ensures that they do not impart any oakiness.
The wines are brilliant and once you taste them, you'll understand why they call him the king.