A lot of people assume that Kerner — a cross of Schiava Grossa and Riesling, conceived in the late 1920s — is named after the man who created it.
In fact, it's named after a nineteenth-century medical doctor and composer of some of the era's most popular drinking songs, Justinius Kerner.
Viticulturist August Herold first crossed the two grapes in his quest to deliver a variety similar to Riesling in its sensorial character but with greater yields.
Today, Kerner is Germany's fifth most planted white variety.
It's also grown, although not as widely, in German-speaking Italy in the region of Trentino-Alto Adige, which borders on Austria and was once part of the Austro-Hungarian empire.
Many would compare wines made from this aromatic grape to Riesling in terms of their tasting profile, although the acidity is generally lower and the flavors tend to be more fruit-driven.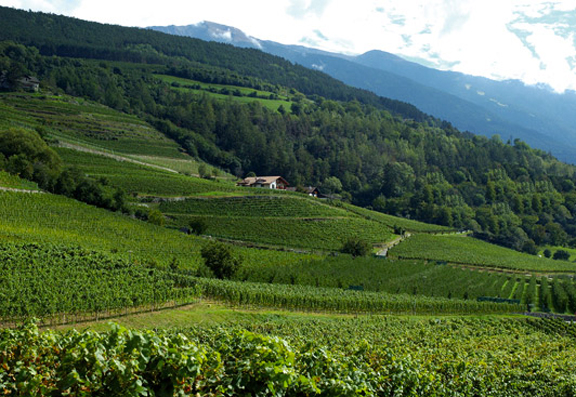 Image via the Pacher Hof winery website.
The Pacher Hof winery is located in the picturesque Alpine village Novacella (click here for the Google map), which lies literally at the top South Tyrol (called Alto Adige in Italian).
When you visit, it's not hard to understand why its grape growers and winemakers are able to deliver such fresh, wholesome-tasting wines. It's simply one of the most pristine growing areas in the world and there is virtually no industrial farming there, in part because there is a general consensus among growers there that wines should be grown without the use of chemicals and that they should be raised with minimally invasive winemaking practices.
We recently tasted the Pacher Hof Kerner and the first tasting note that came to mind was Alpine sunshine in a glass: a simply and utterly delicious wine, with balanced alcohol, vibrant acidity, and wonderfully pure white and stone fruit flavors.
We highly recommend taking a look at the Google map entry for Pacher Hof. It gives you a sense of the unique place where this wine is raised in the Italian Alps.