Nada Fiorenzo is one of those iconic, "legacy" wineries in Barbaresco that has won too many Gambero Rosso Three Glass awards and scored 90+ in Wine Advocate and Wine Spectator too many times to count.
Their bottlings of Barbaresco belong in that pantheon of Langa wines that appeal to both traditionalists and modern-leaning tasters.
They are wines that balance the classic earthy tones of Nebbiolo with a clarity and purity of fruit that only Barbaresco can deliver.
The other day, when we tasted their extraordinary Langhe Nebbiolo, which drinks almost like a young Barbaresco, we were inspired to translate this moving passage, below, written and published by winemaker Bruno Nada on his website.
That's Bruno in the photo.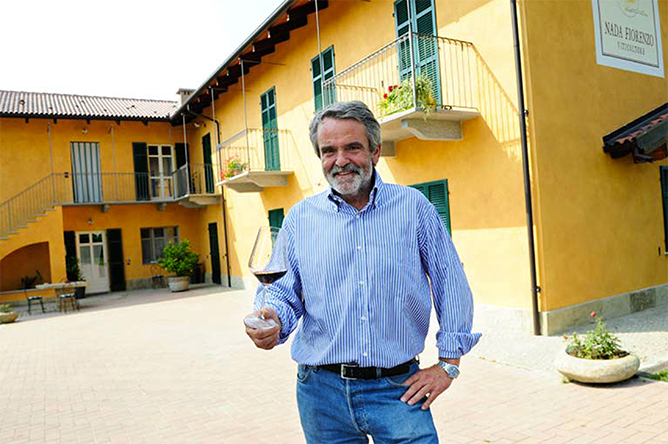 My name is Bruno Nada. I'm the son of Fiorenzo Nada.
I was born in 1951, here in Treiso. Today, Treiso is its own township.
But back then it was still a hamlet of Barbaresco township.
My father had eight siblings. He was born the second-to-last.
He inherited a small patch of land on the border with Alba province at the endo f the 1950s.
His family had always produced wine that they would sell to restaurants.
But when the property was divided between the four males in his family, he decided to abandon winemaking, save for the wine he made for family and friends.
He began selling his grapes. There was a lot of demand at the time from local merchants.
Like many young people at that time, I dreamed of an easier life and so I left Treiso and headed to the city.
It was the 1960s and Italy was in the middle of an economic boom. It was a sparkly time of new television and easy money. Staying in the country meant missing the bus to modernity.
I went to technical college in Torino and Asti. By the time I was 22, I had begun to teach in a school in Alba. And then later I got a job at the Hotel School in Barolo, where I introduced the first food and wine curriculum for future restaurant workers.
Even though I was living a completely different life, my connection to Treiso and its way of life hadn't been severed. It was always part of me.
By this time, the older generation of farmers who had sculpted these hills with their skill and traditions had begun to fade slowly into the sunset. And there was no one left to carry on their legacy.
It was then that I began to enter into the world of fine wine and I met some of the most enlightened winemakers of the day. They talked to me of "terroir," of how wine is the expression of the land.
And with great pride, they also spoke of low yields.
That was when everything changed for me and I became excited about winemaking.
I went to my family and suggested that they stop selling the grapes and that we build a cellar where we could make wine. But I wanted to make wine made from fewer bunches per plant in order for the fruit to ripen more fully.
It was a simple idea. And today it might even seem banal. But at the time, it was a revolution.
"We'll try" was the only thing my father said.
It was a tough time and the clashes with my family weren't easy.
I used to wake up early in the morning to prune the vines and I would hide the bunches in a trench so that my family wouldn't see them.
That was 1982 and that's where this adventure began…