Cammarata in central Sicily is widely known as one of the highest elevation growing areas for Nero d'Avola.
It's also one of the oldest centers for the production of fine wine. As early as the fifteenth century C.E., Italian ampelographers and natural historians had high praise for the wines made there.
In antiquity and throughout the Middle Ages and Renaissance, Sicily was referred to as Italy's "bread basket." Its vast stretches of fertile farmland, the abundance of sunlight and hot summers, and the mediterranean winds make it an ideal region for the cultivation of wheat and citrus, for example.
But historically and especially before the modern era of technology-driven winemaking and temperature-controlled fermentation, producing fine wine there was extremely challenging. It's important to keep in mind that for centuries, Marsala was the only wine to be shipped out of Sicily in significant quantities.
Today with the advent of Etna and Vittoria wines, that's all changed. But in Cammarata, fine wine production has always been the focus of growers, stretching back to the Renaissance and beyond.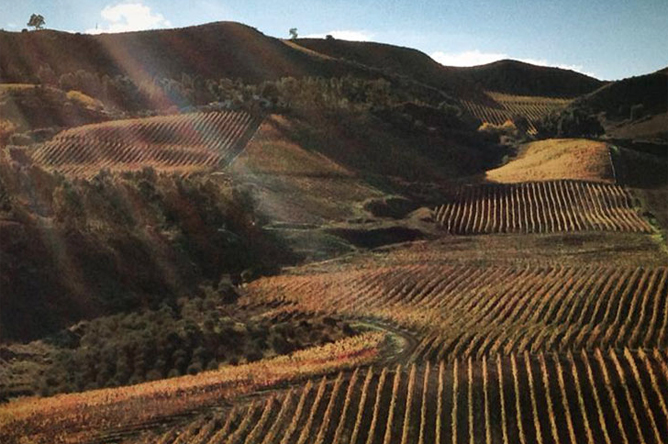 Image via the winery website..
To what can we attribute this anomaly? The answer is simple: The high elevation.
And not only does the high altitude and hilly landscape create the ideal conditions for growing fine wine grapes, it also allows grape growers like Feudo Montoni to work without the use of chemicals.
The temperature variation between night and day at that height helps to cool the grapes every evening and keep them well ventilated and dry. And this is the key. It allows the grower to let the grapes achieve full ripeness because she/he can leave them on the vine until they are ready to be picked without great risk for rot or mildew.
The Feudo Montoni Catarratto Vigna del Masso is a certified organic wine that's grown at roughly 700 meters a.s.l.
The fifty-five-year-old vines are head-trained (known as Alberello in Italian), which means that they essentially grow out of the ground like trees without trellises.
It really doesn't get much more "natural" than that!
And the sandy soils of the Cammarata hills force the vines to dig deep into the soil. The resulting "vigor" of the plants makes for a very rich expression of Catarrratto with healthy minerality and nuanced spice, stone fruit, and nutty notes.