Over the last ten years or so, the interest in unusual and never-before-heard-of grape varieties has led a number of winemakers to produce monovarietal bottlings of once forgotten or sometimes undiscovered grapes.
Colorino may be perfect for blending with Sangiovese in Chianti, for example. But when vinified on its own, it's really not much to write home about.
Ruchè, on the other hand, is one of those previously undiscovered grapes that immediately created a name for itself when it first became available.
Grown primarily in Castagnole Monferrato, a small township in Asti province (Piedmont) which lies northeast of the city of Asti, Ruchè was first identified about three decades ago (it's also grown in townships of Montemagno, Grana, Portacomaro, Refrancore, Scurzolengo, and Viarigi — all in Asti province). Not much is known about its origins. Some believe it was brought to Asti by Monks many centuries ago. But no one really knows for sure.
It's a true mystery. In 2009, according to Crivelli's website, DNA testing showed that it is unrelated to any variety grown in that part of Italy. No one really knows where it comes from or how it got there. But they do know that it's delicious.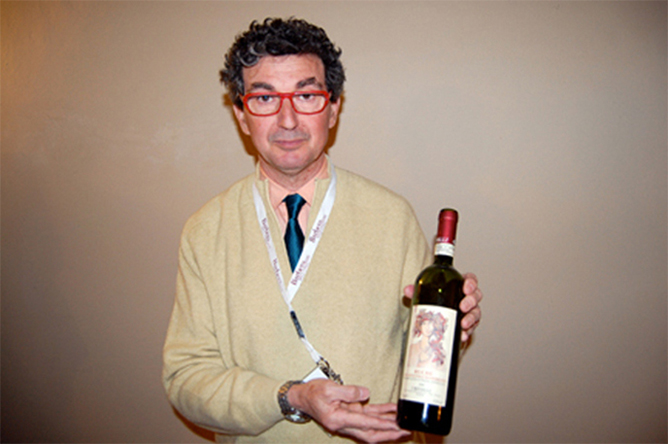 Marco Crivelli (above) was among the first to vinify and bottle Ruchè grapes and he was among those who lobbied for it to be elevated to DOCG status. It did become a DOCG in 2010 (the DOC was created in 1987).
The wine is medium-bodied with balanced acidity.
The thing that's so remarkable about the wines made from Ruchè is its unique floral and spicy notes.
Crivelli's is widely considered the best and the benchmark for this appellation. His elegant interpretation plays on the wine's natural litheness and its gorgeous berry fruit flavors.
Although he probably wouldn't call himself a "natural winemaker," for all intents and purposes he is. He doesn't use pesticides or herbicides in the vineyards and he attempts to transform his pristine fruit into wine using as little intervention as possibile.
The resulting wine is simply stunning.