Man, I'm just going to come right out and say it: this wine blew me away with its depth of flavor, freshness, and its balanced alcohol.
Even as it pushes the limit at around 14.5 percent, it was totally integrated in the wine and in perfect equilibrium with the savory and fruit flavors. And I literally drank it over three nights and its acidity kept it zinging over three dinners.
The wine is from Molise, the region the forms the upper heel of Italy's boot. Some call it the "forgotten" region of Italy because of the fact that it's so depressed economically and has next-to-zero tourist infrastructure.
Historically, Molise was part of the kingdom of Naples and its cuisine and cultural identity have always been dominated by Neapolitan culture. That's one of the reasons it's never emerged or made a splash on the Italian cultural radar.
Until recently, most winemakers grew Aglianico (the Naples influence), Montepulciano, and other grapes from other regions of Italy.
But over the course of the last decade or so, a handful of producers began to plant and vinify Tintilia, an indigenous grape known for its inky, opaque color, hence the name tintilia from tinto meaning colored or dyed.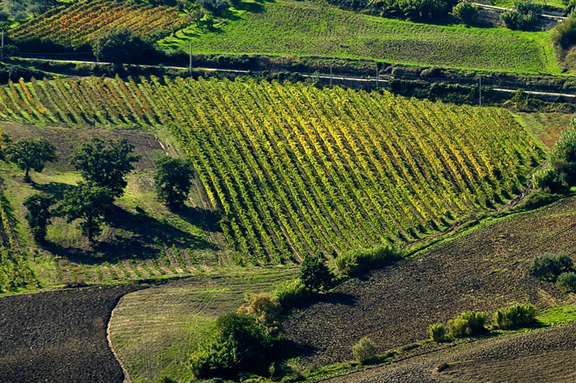 Above: A photo of the Cipressi winery's vineyards in Molise.
Cipressi's Tintilia Macchiarossa (which means red spot in Italian) is vinified in stainless steel and the neutral tanks really let the quality of the fruit and the unique flavors of the wine shine through.
In my experience, the thing that's so singular about Tintilia is its striking combination of subtle meaty and vegetal flavors that don't overwhelm the fruit. And this wine hits it out of the ballpark.
It's simply one of the most original wines to arrive from Southern Italy in recent years and it's one of those wines that bridge the divide between the Italian wine nerd and the Italian wine neophyte. It's just that damn good.