Winery website (highly recommended).
We really don't need to tell you much about Campi Nuovi, Daniele Rosellini and Nadia Riguccini's winery in Montecucco: Their website is one of the best we've ever seen in the Italian wine trade and it is teeming with great info on their approach to growing grapes and winemaking.
Montecucco is an appellation that lies just southwest of the Montalcino DOCG on the way to the seaside. Paganico (pronounced pah-GAHN-ee-koh) is the main town in the appellation.
Many would argue that Montecucco has a lot of the same viticultural elements as Montalcino: Maritime influence and stony subsoils (see the photo below), excellent elevation and exposure etc.
And while the appellation is widely known to produce fresh, bright, and very quaffable expressions of Sangiovese, no winery there has made a mark of true greatness — until now.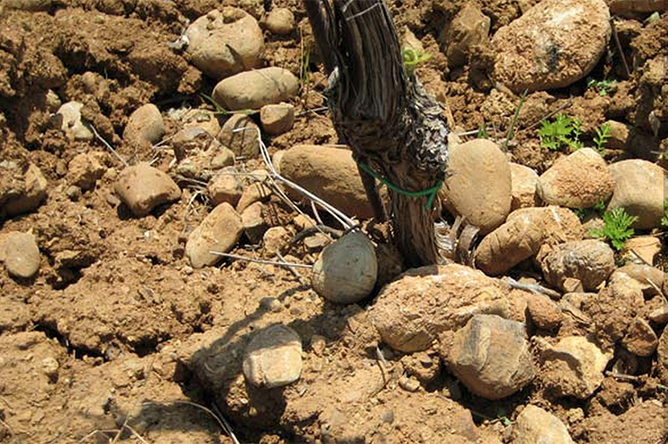 After receiving a degree in enology, Daniele worked with celebrated "taster" Giulio Gambelli (who passed just a few years ago).
Known as the bicchierino or little glass, Gambelli was the last mohican of a generation of winery consultants who simply tasted wines from cask and vat and then advised the winemaker on how to handle and blend the wine.
He was arguably the greatest "taster" of his generation and he is widely credited with having singlehandedly revived the Tuscan wine industry in his lifetime.
Daniele and he worked together at the famed Case Basse estate with winemaker Gianfranco Soldera. To put things in context, even Soldera, who is known for his vast knowledge of fine winemaking and his steadfastness in his approach to viticulture, saw Gambelli as a winemaking giant.
After leaving Soldera, Daniele and his wife, who also has a degree in farming science, launched Campi Nuovi. Some would call him one of Gambelli's last disciples.
Today, their estate is farmed biodynamically and is organically certified.
Again, check out the site here.
And in the cellar, they use large, traditional Slavonian casks for aging.
If ever there were a Montecucco winery that had a shot at entering the Pantheon of Sangiovese greatness, this is it.
And in the meantime, you'll certainly agree that the wines have the verve and "electricity" that come from maniacal vineyard management and healthy subsoils that are rich in nitrogen thanks to cover crops and organic farming practices.
Watch Daniele and Nadia's wines closely. They are destined to become classics. And in the meantime, enjoy these delicious wines!