According to an analysis conducted by the Italian online media outlet WineNews.it, only Barolo (winner of 37 of 663 awards) surpassed Verdicchio dei Castelli di Jesi and Verdicchio di Matelica (22 awards) in the number of top accolades awarded to the appellation's wines in the 2015 edition of the prestigious Slow Wine Guide.
Even Brunello di Montalcino (19 awards), write the WineNews editors, struggled to keep up with Verdicchio in its number of awards.
Could be the next next-big-thing wine to emerge from the Italian wine world? Gauging from the growing number of accolades, it would seem so.
When you taste the 1999 Veridicchio dei Castelli di Jesi Superiore Le Case by Bonci, it's not hard to understand why.
This wine, still youthful in its fifteenth year of life, is one of the most profound white wines we have ever tasted from Italy.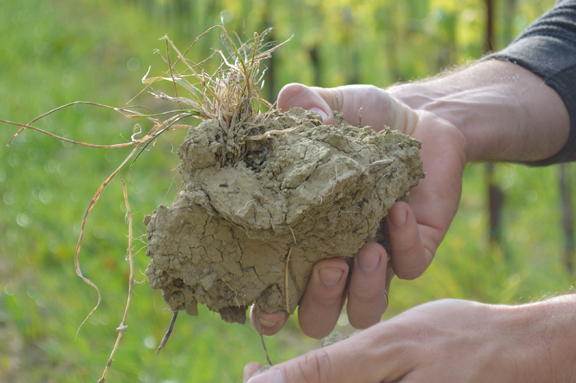 Above: Tufaceous subsoil is one of the elements that gives Verdicchio dei Castelli di Jesi is incredible aging potential.
For a generation, the fish-shaped bottles of commercial producers led American consumers to believe that Jesi was a producer of cheap, quaffing wine. Market saturation eclipsed the extraordinary wines of smaller producers like Bonci.
But today as the Italian wine renaissance continues to expand in our country, we're seeing more and more fantastic bottlings make it here.
We tasted the 1999 Le Case (cru) the other day at the office. The wine was fresh and extremely vibrant in the glass with intense but balanced mineral notes offset by gently toasted almonds and rich stone and dried stone fruit.
This is a world-class white wine that can go toe-to-toe with some of the best wines of Burgundy (yes, we know, that's a loaded statement; but when you taste this wine you'll understand why we're confident that you'll agree). And gauging from its vibrancy, it still has many, many years ahead of it.
And the crazy thing is… the price. But we can't reveal that here.
You'll have to reach out to a Vitis sales rep for that!