Above: The Barolo appellation as seen from La Morra village township where Cascina Ballarin is located.
Click here for the winery website (highly recommended and full of great information about the wines).
She still hasn't reviewed any of Cascina Ballarin's current-release wines since she moved over the Robert Parker, Jr.'s Wine Advocate. But while she still at Wine Enthusiast, Monica reviewed a number of the winery's releases, with glowing notes and fantastic scores.
Here are just a few examples of her praise for the wines…
Cascina Ballarin 2005 Barolo Bricco Rocca
94 points
Cascina Ballarin's Barolo Bricco Rocca comes from the La Morra area of the Langhe and offers intense aromas of blue flower, violets, almond flowers, cinnamon and powdered licorice. The focus here is on elegance and harmony and the mouthfeel follows through with power and determination. This is a truly beautiful wine.
Cascina Ballarin 2006 Barolo Bricco Rocca
92 points
Barolo Bricco Rocca still needs a few more years in the cellar to allow for full integrations of its spice, fruit, tobacco and mineral components. This beautiful wine is ripe with potential and the mouthfeel is plush and velvety with a wonderful fade of smoke and black fruit.
Cascina Ballarin 2007 Barolo Bricco Rocca
92 points
Barolo Bricco Rocca boasts its own personality that puts more focus on broader, horizontal aromas of Graham cracker, dried grass and spice rather than vertical notes of cola and mint. Because of its unique traits, this wine would pair with stewed meats or baked white beans.
Click here for all of her ratings of recent releases for Wine Enthusiast.
For the record, in July of last year (2014) she gave the 1990 (classic) Barolo 91 points and called it "young."
"The wine has aged gracefully over the years," she wrote, "and shows a profound sense of density and structure. I returned to the glass 24 hours later and much of that residual freshness was still on hand."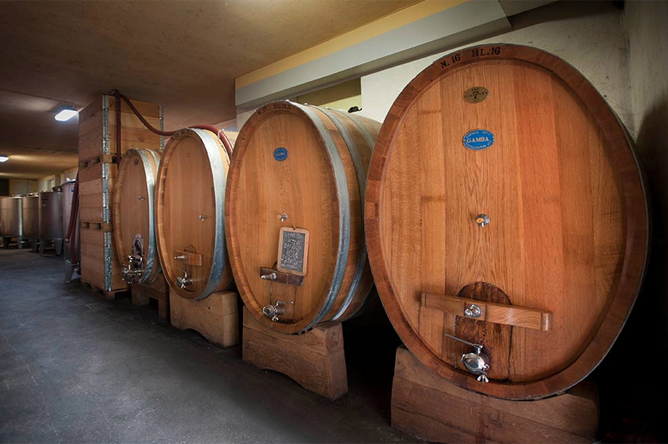 Above: Cascina Ballarin ages its Barolo in traditional large-format Slavonian casks, an essential component to creating the classic style of these wines.
Cascina Ballarin may have a lower profile than many of the sought-after Barolos from marquee-name wineries that we all know and love (and can scarcely afford!).
But as we can see from Monica's tide of 90+ scores for the wines, they are world-class Barolos that can compete with their more famous counterparts.
The wines are classic in style. Beyond temperature-controlled fermentation, the winery embraces a traditional approach to the wines: Large-format Slavonian oak casks (like the ones in the photo above) oxygenate the wine slowly without imparting any wood flavors.
The resulting wines are earthy with classic notes of tar and truffles complemented by vibrant red and berry fruit.
Many expert tasters would compare the wines to some of the more familiar traditional houses. The only difference is that the price is remarkably lower…