Here's what the owners of the Nanfro winery in Vittoria, Sicily, write on their website (translation by our blogmaster):
The choice to work organically means embracing a system whereby humankind has the least impact as possible on the environment and working to develop sustainable agriculture.
The Antica Tenuta del Nanfro has chosen to embrace this philosophy in accordance with norms established by EU regulations and monitored by QC&I International Services.
Some of the tenets of organic farming are as follows: the non-use of pesticides and synthetic fertilizers, not to mention anti-biotics in the vineyard; the banning of genetically engineered organisms; the use of clones naturally resistant to vine disease and clones that are suited to the climatic conditions where they are cultivated.
We believe that the health of a wine begins with the meticulous attention given to the vines by one's love for the land.
In our view, it's one of the best if not the best description of what organic and chemical-free farming is all about.
Here in America, we often see organic farming as a common sense approach to viticulture. They see it like that in Italy, too. The difference is that many Italian growers also view it as an expression of love for the land.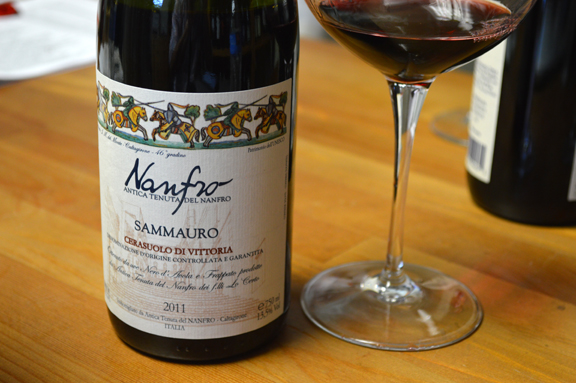 When you taste Nanfro's wines, you literally taste that love. They have an electricity and vibrancy to them that few non-organically farmed wines can achieve.
As one wine buyer noted when he and a colleague were tasting in our offices the other day, the wines "just seem alive in the glass."
Nanfro's Cerasuolo di Vittoria is a classic blend of Nero d'Avola and Frappato, where the Nero d'Avola imparts structure, color, and richness of fruit, balanced by the Frappato's light body and brighter fruit.
This wine is lip-smacking delicious and it's not hard to understand why. You can tell from what the owners write on their website that their wines' wholesomeness is key to them.
Vineyard image via the Nanfro Facebook.