We are very excited to announce the arrival of a new member of the Vitis portfolio, the Camossi Franciacorta from Lombardy, Italy.
The Camossi brothers, Dario and Claudio, are part of a growing movement of family growers who have stopped selling their fruit to the big négociant houses in Franciacorta and have begun vinifying and bottling their wines themselves.
The non-vintage Camossi Satén is a 100% Chardonnay classic method Franciacorta.
What do we mean when we say classic method or traditional method?
Metodo classico (classic method) is the official Italian designation for sparkling wine that is made by refermenting the wine in bottle and then aging and riddling the wine on its lees before it is disgorged.
What do we mean by Satén?
Satén means literally silk. This official designation was created for Franciacorta in the 1980s and was incorporated into the Franciacorta DOCG when it was created in 1995.
It is used to denote Franciacorta wines that are made using white grapes exclusively. In this case, the wine is 100% Chardonnay. But Pinot Bianco is also allowed by the appellation (even though few producers today, except for those growers whose vineyards lie in the western subzone of the appellation, use Pinot Bianco in their Satén).
Why silk? The reference to silk is owed to the fact that Franciacorta was once a major center for the production of silk in Italy (saten or satin means silk in French).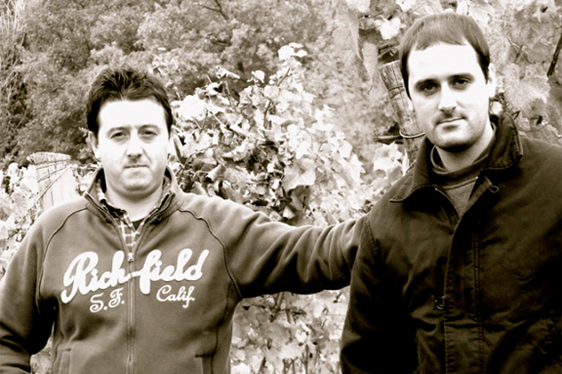 Above: Giovanni (left) and Claudio Camossi (image via Terra Uomo Cielo).
Although they are virtually unknown to Americans, Camossi wines have received a lot of attention in Italy, where they are considered an "insider's" wine. You'll find them in some of the finest and most high profile restaurants in Italy, including the famous Roscioli in Rome, where they were catapulted to celebrity when they were first served there.
Few have tasted these wines in California. But if their success in Italy is any indication of how they will fare here in the U.S., we are sure that they are going to be a big hit among wine cognoscenti.
They are among the most beautiful wines we have ever tasted from the appellation and their price-quality ratio is extraordinary.