Here at Vitis Imports, we're big fans of Italy's native grape varieties. It's not that we have anything against international grape varieties. But we feel that the thing that makes Italian wines so unique is the fact that its 20 regions all have their own, unique grapes.
Where some people go for Merlot from Tuscany, we like Sangiovese.
Where others reach for Syrah from Sicily, we look for Nero d'Avola.
So why is that we love Pinot Noir (Pinot Nero) from German-speaking Alto Adige so much?
After all, isn't Pinot Noir a grape found primarily in France and more recently in California?
The fact of the matter is that Pinot Noir — or Pinot Nero, as it is called in Italy — has been grown in Italy's Adige River Valley for centuries.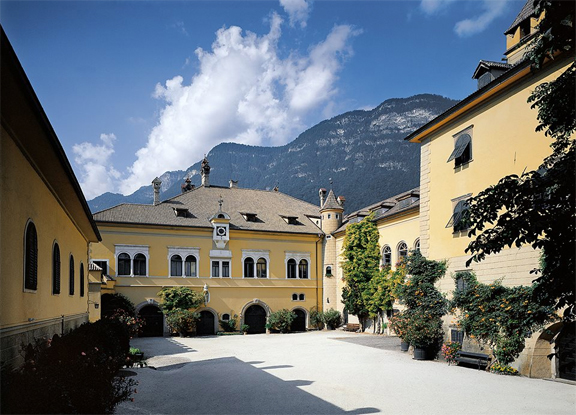 Above: The Castel Sallegg winery (image via the Castel Sallegg Facebook).
During the era of the Austro-Hungarian Empire, when this region was governed by the House of Habsburg, the Alto Adige River valley was one of the top growing zones for grapes like Pinot Gris, Pinot Blanc, and, of course, Pinot Noir. These were the grapes that the German-speaking aristocracy liked to drink. And the banks of the Alto Adige (the upper Adige river) were (and still are) ideal for growing these often delicate varieties, which need excellent temperature variation (i.e., warm summer days balanced by cool summer evenings) in order to ripen fully (an develop complete phenolic ripeness while retaining the acidity that they need to produce long-lived, balanced wines).
You really have to visit Alto Adige to understand why it is such a geographically and climatically unique place in the world.
In essence, it's a river valley in the Alps. Technically, you shouldn't be able to grow fine wine grapes at those altitudes.
But the valley floor acts as a sort of solar panel and its warmth is sufficient to balance the cold air found at those altitudes. There's no place like it on earth.
It's a beautiful sight to behold and it produces some of the best wines (and apples) in the world.
The wines, like the Castel Sallegg Pinot Nero, are fresh and bright, with vibrant acidity and great clarity of fruit. And they represent some of the greatest values in fine wine today (many sommeliers' best-kept secret).
Click here to read more (excellent English-language website).